UnicornSEO
Data science platform for digital marketing
Improve your online performance with our tools
Video of UnicornSEO
Generate unique content with artificial intelligence
As shown recently by GPT-2 of OpenAI, current state of the art AI models can already generate content of impressive quality, even surpassing humans.

Our platform already offers AI solution for generation of unique new content or upgrade of your existing content.

For background on GPT-2 and results, please read our blog post:

Will AI systems like OpenAI GPT-2 lead to dramatic changes for content generation and SEO?

Our predictions for AI content writing in the future:
dramatic decrease in costs of content generation
quality of AI texts on par or better than humans
initial models specialised for fields, e.g. writing for online travel industry, products reviews, etc.
rise of new fields and niches (emergence of AI quality editors, equivalent to proof editing of neural machine translation)
combination with neural machine translation (NMT) will enable generation of content for almost all languages (we already employ NMT in our platform)
We aim to be at the forefront of AI content. Become our client and join us.
Start exploring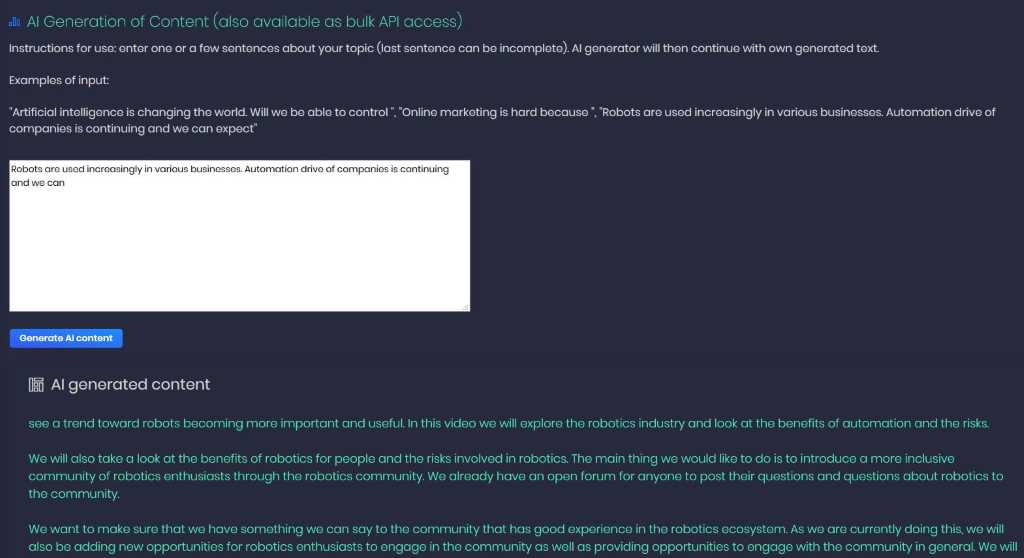 Advanced Tools for Your Success
Our tools help you write better content and improve your search rankings.
Keyword Ranker

Rank Tracker

Entity Sentiment Analytics

Niche Explorer

Ranking Factors Research
Content Optimization

Semantic similarity

Content Insights

Sentiment Tracking

AI Content Generator
Explore More
Subscribe Now
About Us
UnicornSEO is an innovative data and analytics platform for digital marketing from company Alpha Quantum.
Website: www.alpha-quantum.com
Company Contacts
Alpha Quantum
Komenskega 40, 1000 Ljubljana
Slovenia (EU)